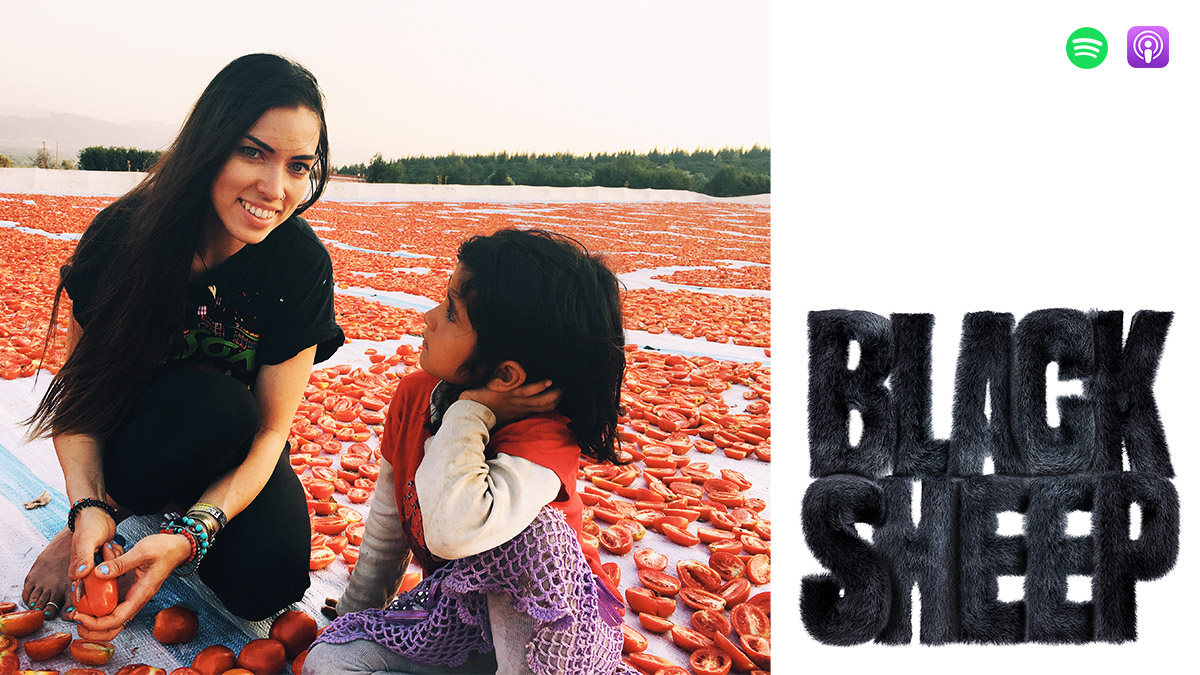 Jaz O'Hara is the founder of The Worldwide Tribe, an organisation and online community raising awareness about the refugee crisis, as well as supporting those caught up in it. She was recently on our Black Sheep podcast to discuss using social media as a force for change and the astonishing stories of refugees' journeys. Here are her top recommendations for learning more about the refugee crisis.
I've been working with refugees in varying capacities for over five years now, starting in the notorious Calais Jungle Refugee Camp in Northern France in 2015, when my mum and dad adopted a 12-year-old Eritrean boy who had been living there. Since then, my work as a filmmaker, writer and podcaster has taken me across Europe, the Middle East and even to Bangladesh to listen to and learn from some of the most mind-blowing, inspirational and down-right heroic stories I have ever heard. What I've realised during lockdown in London however, is that you don't actually have to travel anywhere to learn about the refugee crisis. There are so many resources available to all of us, and I wanted to share some of my favourites with you.
TO READ:
The Lightless Sky by Gulwali Passarlay
This beautiful book tells the story of my good friend Gulwali's journey to safety as a child refugee from Afghanistan. He gives an incredible insight into life under the rule of the Taliban, to finding safety in the UK aged just 12 years old. I read this book during the same time that my parents took on my second adopted brother, Arash, from Afghanistan. Arash's journey echoed that of Gulwali's and I will be forever grateful to Gulwali for giving some context and increasing my understanding of what Arash had been through.
https://blackwells.co.uk/bookshop/product/9781786497154?gC=5a105e8b&gclid=Cj0KCQjwz4z3BRCgARIsAES_OVfhZ4cJK2HDyx1WOY2c7H4pjQyGOSJPHcotBrFKk3EG6YMe8pHLY6caAgyLEALw_wcB
Gulwali and I also recorded a podcast episode together during Season Two of The Worldwide Tribe podcast. You can listen to it on Spotify here:
Butterfly by Yusra Mardini
Yusra's story is one of ultimate adversity and huge triumph. She became internationally known for swimming her boat to safety after it capsized during her crossing as a refugee from Turkey to Greece. One year later, she went on to represent the refugee team, swimming in the Rio Olympics at just 17 years old. She has since continued to advocate for refugee rights whilst gaining asylum in Germany and continuing her studies. Young, beautiful and brave, Yusra is an incredible role mode,l and I hung on to her every word during our podcast episode together which you can find here:
You can find her autobiography here: https://www.amazon.co.uk/Butterfly-Yusra-Mardini/dp/8809867955/ref=sr_1_1?adgrpid=53361605916&dchild=1&gclid=Cj0KCQjwz4z3BRCgARIsAES_OVegBB5W1CePj2RV7oM7WINd3yzo40OZQABedQJD0rpr67J7fbQGo7EaAmdCEALw_wcB&hvadid=259079662036&hvdev=c&hvlocphy=9045882&hvnetw=g&hvqmt=e&hvrand=13607224672832544600&hvtargid=kwd-416486081978&hydadcr=24430_1748944&keywords=butterfly+yusra+mardini&qid=1591970720&sr=8-1&tag=googhydr-21
TO FOLLOW:
@ConversationsfromCalais
My current favourite Instagram account. This page shares simple conversations with refugees living in Calais, and they break my heart every single time. Each one is relatable and reminiscent of conversations and exchanges I have shared over the years there too, and the way that they are presented on posters is powerful, shareable and impactful.
TO WATCH:
Living Undocumented on Netflix
Phwoar…this 6-part documentary about families affected by the changing immigration policies under Trump's administration is eye-opening and heartbreaking. Having worked mostly within refugee camps in Europe, it was shocking and heartbreaking to meet and become invested in these American-centric stories through this incredibly executed series.
https://www.netflix.com/title/80209609
Exodus – BBC
This series followed the stories of people attempting to cross into Europe as refugees. What sets it apart is that the BBC provided people with cameras so that they could document their own journey in a way that no film crew would ever be able to. This made for a real intimate insight and I will never forget the moment when my Syrian friend Hassan Akkad touches down in the UK after successfully using a fake passport. It makes me cry my eyes out ever time.
https://www.bbc.co.uk/programmes/b07ky6ft
For Sama – Channel 4
Be prepared…this film is one of the most powerful and emotional films I have ever seen. Syrian filmmaker Waad documents besieged Aleppo and the horrors of life there, whilst juxtaposing it with the beautiful moments of her falling in love, getting married and having her daughter Sama. It's a MUST watch, but have the tissues ready.
https://www.channel4.com/programmes/for-sama
You can also find our podcast episode together here:
TO LISTEN TO:
The Worldwide Tribe Podcast: Episode 5 (Crossing the Sahara, the Sea and the Calais Jungle at 13 Years Old: The Story of my Eritrean Foster Brother Mez)
This is the most popular episode of my podcast so far…and for good reason. My adopted brother Mez shares his mind blowing story of crossing the world to find safety. This is ESSENTIAL listening for everyone in the world in my opinion 🙂
Episode 704 to This American Life – Their Pulitzer Winning Episode – 'The Out Crowd'
This episode of this awesome podcast was the first ever radio show to be awarded this prestigious prize, and I'm so glad that it did. It talks about Trump's 'Remain in Mexico' policy and what it actually means, on the ground at the Mexico border.
https://www.thisamericanlife.org/704/our-pulitzer-winning-episode
The Worldwide Tribe Podcast: Episode 4 (Being a Mum to Seven kids from Four Different Countries)
I may be biased, but this episode of my podcast with my mum is my favourite. She talks about the ups and downs of welcoming three teenage boys from three very different countries into our family – but it's mostly up's! Fostering unaccompanied refugee children has been the most beautiful experience for our whole family and one we are happy to share!
https://podcasts.apple.com/no/podcast/4-being-mum-seven-kids-from-four-different-countries/id1468264562?i=1000445939608
Girl Taken – BBC Radio 4
You may remember the story of Rob Lawrie, a former British soldier who was arrested for people trafficking after he was caught trying to smuggle a three year old girl from The Calais Jungle Refugee Camp into the UK. In the end it was named a crime of compassion, but that court case was just the beginning of the story. This 10-part series follows what happened after when Rob tries to find the girl, as well as the truth
https://www.bbc.co.uk/programmes/m000ghxl I would recommend listening to this AFTER first getting familiar with him and the story through our podcast episode together here: